Discover the North
Dean Brody
Dawson Creek
May 27, 2017
Beautiful Freakshow Tour 2017
Event Nightlife Family Arts & Culture Theatre Music Entertainment
Description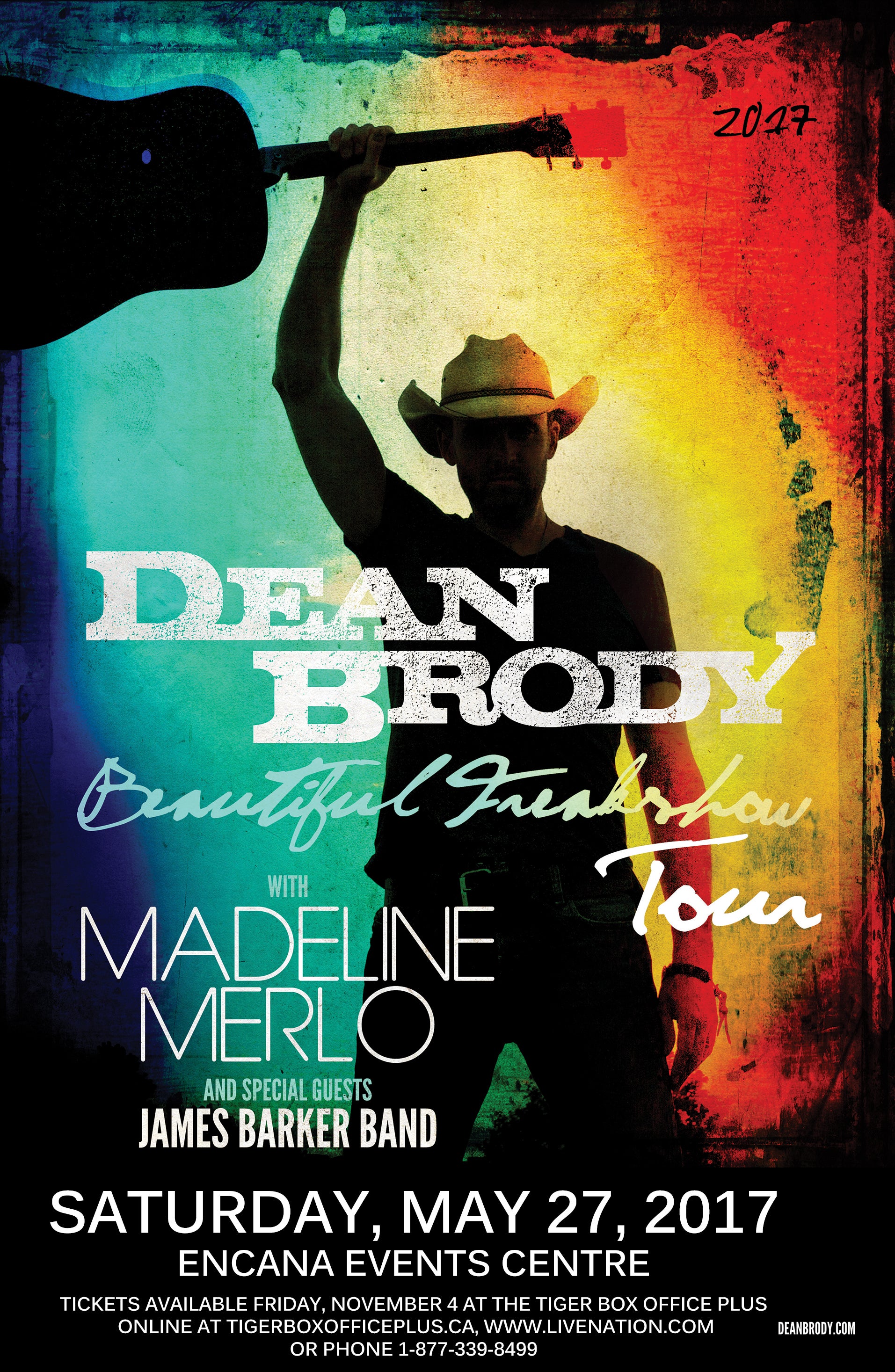 In the midst of an exhilarating album launch, Dean Brody brings his brand new album, Beautiful Freakshow, coast to coast through local media appearances, and country radio listener events, culminating in a special live performance in Toronto, to kick-off the announcement of national tour dates, beginning April 2017.
Tickets are priced at $64.00, $49.50 and $39.50 plus applicable fees. Tickets may be purchased online starting Friday, November 4 at 10:00AM at www.tigerboxofficeplus.ca by phone at 1-877-339-8499, and in person at the Tiger Box Office Plus location at the Encana Events Centre or online at www.livenation.com
VIP tickets will include premium seats, a pre-show meet and greet, photo opportunity, a pre-show acoustic performance and more. Click here for VIP.
On the west coast dates, 2015 CCMA Rising Star and reigning BCCMA Female Artist of the Year, Madeline Merlo will perform in advance of Brody taking to the stage, and on the Ontario dates, newly Warner Nashville signed act High Valley will bring fans straight into the headliner. Fun loving, Top 5 Canadian country radio act, James Barker Band will be opening the action-packed show across Canada.
The past year saw Brody take home a JUNO Award for Country Album of the Year, along with 4 CCMA Awards for the top selling digital Canadian country single of all-time, "Bring Down the House". Beautiful Freakshow is Brody's sixth album, and it's one that takes risks and delves outside of the comfort zone of traditional country, with songs such as the progressive title track, featuring a rap vocal from Halifax native Shevy Price, and the mellow reggae vibe invoked from "Beautiful Girl". And yet, the record manages to simultaneously stay true to what many fans have come to love and expect from Brody, with traditional tracks destined to be classics, such as, "Time", "8th Day" and "Blueberry Sky", which features iconic country legend, Vince Gill on the guitar.
Map
Contact Information
#1-300 Highway 2 Dawson Creek British Columbia V1G 0A4
Need A Place To Stay? Check Out These Accommodations!
Dawson Creek
Premium accommodations in Dawson Creek, BC
Event Nightlife Family Arts & Culture Theatre Music Entertainment
Dawson Creek
The Stonebridge Hotel Dawson Creek offers all the comfort and convenience you deserve after a long day of work or travel.
Event Nightlife Family Arts & Culture Theatre Music Entertainment