Blog
World Renowned Comedian Jeff Dunham Coming to Dawson Creek at the Encana Event Centre
Oct 28, 2015
October 28, 2015
WORLD RENOWNED COMEDIAN JEFF DUNHAM BRINGS HIS "PERFECTLY UNBALANCED" INTERNATIONAL TOUR TO THE ENCANA EVENT CENTRE, MARCH 20TH
New NBC Special "Jeff Dunham: Unhinged in Hollywood"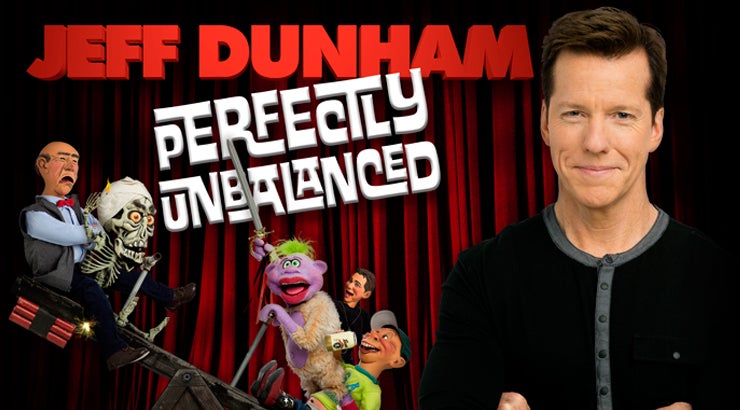 Premiered to 7 million viewers, roughly 5% of US televisions tuned in.
Unhinged will premiere on Comedy Central Sunday, November 1st
Jeff Dunham, the wildly popular and internationally acclaimed comic/ventriloquist is loading up the bus along with his cast of characters and heading to Encana Event Centre in Dawson Creek, BC on Sunday, March 20th on their "Perfectly Unbalanced" International Tour. The Midwest leg of the tour begins in Green Bay, WI and will include stops in Topeka, Bloomington, Dayton, and then heads over to Pittsburgh, Indianapolis, Albany, Boston, Portland and several cities in Ontario Canada.
Tickets will be available for purchase on Monday, November 2 at 10 a.m. MST. Tickets are priced at $72.00 plus applicable fees. Tickets may be purchased online at www.tigerboxofficeplus.ca by phone at 1-877-339-8499, and in person at the 2 Tiger Box Office Plus locations at the Encana Events Centre and at Tiger Printing & Stationers.
November of 2014 Dunham and his sidekicks began their six month residency at Planet Hollywood Resort and Casino in Las Vegas. By overwhelming popular demand "Not Playing with a Full Deck" was held over through October 2015.
In August Dunham shot his seventh comedy special "Jeff Dunham: Unhinged in Hollywood" during a two-night stand at the Dolby Theatre in Los Angeles with Special Guest Brad Paisley. The special premiered on NBC September 17 to a staggering 7 million viewers, roughly 5% of US televisions tuned in. Comedy Central will give "Unhinged" its cable television premiere at 8:00PM and 9:00PM Sunday, November 1st. The network will replay the special at 11:00PM November 14th at 6:00PM on November 26th and 5:00 PM Christmas Day. Unhinged will be released nationwide on DVD/Blu-ray November 17th.
Comedy Central will also be airing a number of his most popular specials for fans in the mood to binge watch Dunham and the gang. "Controlled Chaos," "Spark of Insanity," "Minding the Monsters," and "All Over the Map" will air multiple times from October 29th to November 1st. Check your local listings.
Dunham hand-crafts each character personally from conception to the final coat of paint then brings them to life on stage. His beloved troupe of sidekicks are: Walter the Grumpy Retiree, Ached the Dead Terrorist, the beer-fueled redneck Bubba J, the manic purple creature Peanut, the spicy pepper from south of the border Jose Jalapeno and Little Jeff, a mini-version of the ringmaster himself.
The famed comedian has literally been all over the map, visiting five continents and twelve countries including the UK, South Africa, Australia, the Middle East, and Asia where he continuously performed to sold-out arenas.
Dunham has carved a unique corner in the comedy world that's as funny as it is popular. The New York Times Magazine declared Jeff Dunham "the most successful comedian working in America." He has been named Pollstar's #1 Comedy Tour in North America for three years running as well as their Top Worldwide Tour for two years in a row and has set the record for viewership on Comedy Central. Jeff has sold over 7 million DVDs worldwide and garnered nearly a billion views on YouTube.
Perfectly Unbalanced Tour dates:
12/2 – Resch Center, Green Bay, WI
12/3 – US Cellular Center, Cedar Rapids, IA
12/4 – Expocentre Landon Arena, Topeka, KS
12/5 - US Cellular Coliseum, Bloomington, IL
12/6 - Nutter Center, Dayton, OH
12/28 - Budweiser Gardens, London, ON
12/29 - FirstOntario Centre, Hamilton, ON
12/30 - Giant Center, Hershey, PA
12/31 - Consol Energy Center, Pittsburgh, PA
1/2-3 - Mile One Centre, St. Johns, NL
1/13 - Bankers Life Fieldhouse, Indianapolis, IN
1/14 - Van Andel Arena, Grand Rapids, MI
1/15 – General Motors Centre, Oshawa, ON
1/16 – Canadian Tire Centre, Ottawa, ON
1 17 – Sudbury Arena, Sudbury, ON
1/27 - Dunkin Donuts Center, Providence, RI
1/28 - Times Union Square, Albany, NY
1/29 - Mohegan Sun Arena, Wilkes-Barre, PA
1/30 - Agganis Arena, Boston, MA
1/31 - Cross Insurance Arena, Portland, ME
2/10 – Blue Cross Arena, Rochester, NY
2/11 – Prudential Center, Newark, NJ
2/12 – Royal Farms Arena, Baltimore, MD
2/13 – Verizon Wireless Arena, Manchester, NH
2/14 – Wells Fargo Center, Philadelphia, PA
2/24 – Amalie Arena, Tampa, FL
2/25 – Jacksonville Veterans Memorial Arena
2/26 – Germain Arena, Estero, FL
2/27 – BB&T Center Arena, Sunrise, FL
3/9 – Energy Solutions Arena, Salt Lake City, UT
3/10 – Sleep Train, Sacramento, CA
3/11 – SAP Center, San Jose, CA
3/12 – Viejas Arena, San Diego, CA
3/13 – Tucson Arena, Tucson, AZ
3/16 – MTS Center, Winnipeg, MN
3/17 – Mosaic Place, Moose Jaw, SK
3/18 – Canalta Centre, Medicine Hat, AL
3/19 – Rexall Place, Edmonton, AL
3/20 – Encana Events Centre, Dawson Creek, BC
4/6 – Matthew Knight Arena, Eugene, OR
4/7 – Moda Center, Portland, OR
4/8 – Spokane Arena, Spokane, WA
4/9 – Abbotsford Centre, Abbottsford, BC
4/10 – Tacoma Dome, Tacoma, WA
4/20 – 1st Bank Center, Broomfield, CO
4/21 – Broadmoor World Arena, Colorado Springs,CO
4/22 – Centurylink Center, Omaha, NE
4/23 – Denny Sanford Premier Center, Sioux Falls, SD
4/ 24 – Rushmore Ice Arena, Rapid City, SD
5/4 – American Bank Center, Corpus Christi, TX
5/5 – Frank Erwin Center, Austin, TX
6/6 – BOK Center, Tulsa, OK
Visit: www.jeffdunham.com, twitter: @jeffdunham , facebook.com/JeffDunham
Jeff Dunham: Unhinged in Hollywood https://www.youtube.com/watch?v=UOM8TzzTFQI
Tickets: $72.00 / Show time: 3:00 pm
For Tickets Call: 877-339-8499 / Visit: http://dawsoncreekeventscentre.com
Encana Events Centre is located at 300 Highway 2 #1, Dawson Creek, BC, Canada V1G 0A4
To request an interview or additional press materials, please contact Debbie Keller at Personal Publicity 480-839-9474 or e-mail DKellerPublicity@aol.com
Follow more Encana Events Centre updates via social media at www.facebook.com/encanaeventscentre, www.twitter.com/EventsCentreDC and www.instagram.com/EventsCentreDC
ABOUT ENCANA EVENTS CENTRE AND SPECTRA
The Encana Events Centre is a production oriented multi-purpose entertainment venue, managed by Spectra Facility Management. The Encana Events Centre is home to a myriad of events including concerts, rodeos, circuses, ice skating and family shows.
Spectra by Comcast Spectacor is the expert in hosting and entertainment, partnering with over 300 clients at 400 global properties to create memorable experiences for millions of visitors every year. Spectra's expertise is embodied within three divisions: Venue Management (formerly Global Spectrum), Food Services & Hospitality (formerly Ovations Food Services) and Ticketing & Fan Engagement (formerly Paciolan). Learn more at SpectraExperiences.com.
Comcast Spectacor is part of Comcast Corporation, a Fortune 50 media and technology company that operates Comcast Cable and NBCUniversal. Headquartered in Philadelphia, Pa., In addition to Spectra, Comcast Spectacor owns and operates the National Hockey League's Philadelphia Flyers and the Wells Fargo Center venue. Visit us at ComcastSpectacor.com, PhiladelphiaFlyers.com and WellsFargoCenterPhilly.com for more information.
Venue PR/Marketing:
Brent Hodson | Sherry Reynard
250-795-3314 | 250-795-3347
Email: bhodson@dawsoncreekeventscentre.com | sreynard@dawsoncreekeventscentre.com